Go Intel!
By Duru
December 1, 2004
…for now anyway!
After waxing bearish all year on Intel, I finally have something good to say….even if brief. We are now faced with yet another mid-quarter update which promises to provide as much drama as we have come to expect. I get quite tired of these things as I think the market over-reacts to the news. However, this time around I smell positivity (disclosure: I am putting my money where my mouth is on this). Certainly the animal spirits that are buffeting the NASDAQ are dragging Intel right along, but we must also remember that expectations for Intel's business have been seriously ratcheted down exactly at a time when it seems we overshot negativity for the economy in the short-term. The 2004 holiday shopping season got off to a strong start with the day after Thanksgiving posting a 10.8% year-over-year pop in sales. And while sales fizzled from there, the talk and the buzz about the booming potential in on-line shopping and sudden drop in oil prices has folks beginning to anticipate and price in a better economic climate. Intel is sure to benefit from any acceleration in economic activity, and it seems like a good bet - you at least would do well not to bet too heavily against it for now.
To make the picture complete, let us take a look at what the chart is telling us ahead of the mid-quarter report. (All charts courtesy of TC2000).
<![if !vml]>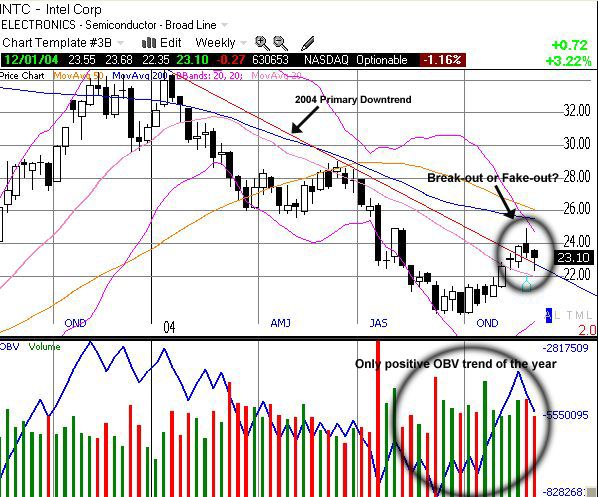 <![endif]>
The above graph is a weekly candlestick chart revealing the strong downtrend for 2004. Look closely though, as this picture shows that something may have finally changed for Intel. First and foremost, Intel is attempting to break-out of the primary downtrend that has held sway for the entire year of 2004. This attempted break-out is only the third extended rally of the year, but it is the first rally that has been confirmed by increasing on-balance volume (OBV). That is, for the first time all year an extended rally has actually generated some serious buying interest. A change could be a-foot for Intel, and you would be wise to pay attention.
Next, let's zoom in on the recent action….
<![if !vml]>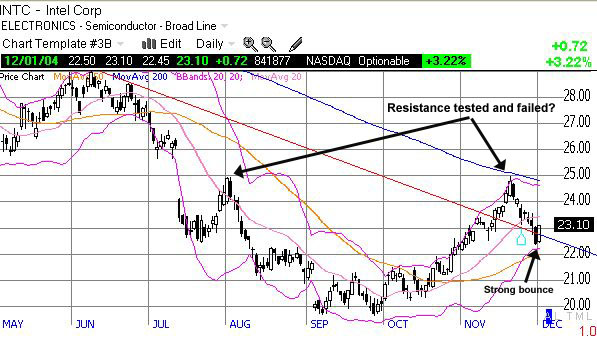 <![endif]>
This chart shows the daily action on Intel over the last half of the year. Notice that the picture becomes more mixed. Clearly, Intel has rallied and failed to break double resistance: the rally high of July/August and the 200 DMA (daily moving average) looming overhead in November. November ended with heavy selling to double-support: the 50 DMA and the lower Bollinger Band….all at the previous primary downtrend line. This support proved good as December started with a strong counter-attack. Something dramatic is afoot, and the mid-quarter update is likely to clarify things. On balance, I place my bets on Intel rallying from here and breaking resistance. Should be interesting!