True Bear Market Action
By Duru
April 20, 2005
I suppose I am a little late to officially declare the start of a new bear market, but today even the long-suffering bulls have to acknowledge that something is broken!  Sadly enough, I continue to hear pundits pooh-pooh the current nasty action in the financial markets as irrational, excessive, or a wonderful buying opportunity.  Once I started hearing some real fear out there that something could be wrong, I will continue to ratchet down my expectations as to how low we might go until a real bottom forms.
Today was true bear market action featuring some nasty reversals.  As we have seen a lot this year, the market opened up nicely, and in my mind I was getting ready to write a missive declaring "let the relief begin."  As you know, I have been insisting the market still had one more good rally, perhaps lasting as much as two weeks, before the malaise continues.  I am still waiting.  So instead, the manic market behavior has me writing a completely different missive now.
The thing to note today is that a bunch of companies are reporting decent earnings and decent outlooks.  Even Intel, a company and stock I have long dogged, sounded a bit chipper during last night's earnings call.  Couple this with Texas Instruments' insistence that their inventory correction is just about over, and that the second half of the year looks good, you had to get the feeling that the semiconductors were going to punch in a bottom for tech.  Caterpillar trumped all the dour faces whispering about the end of the run in cyclicals by pronouncing that it is raising its financial outlook for 2005.  With all this goodness, you would think the market would be ready to get back to going up.  Wrong…
The problem?  Well, remember the Fed?  Yeah, the world's newest inflation-busters.  They have made it clear that they are on the beat ready to stamp out a worrying scourge of inflation.  Every time we get good earnings news, we get further confirmation that the economy is strong (or at least OK) and that inflation could indeed be lurking somewhere.  If the economy is still healthy, then it could certainly absorb a few more rate hikes without a problem, right?  This locks us into a vicious cycle of selling on any news: good news is bad because it could be inflationary and will not discourage the Fed from raising rates to no end, and bad news is bad because it confirms that the Fed is killing the economy.  It is the exact opposite of the self-reinforcing logic of the happy bull where good news is good because the economy is strong and getting better and bad news is good because things could not get any worse!  So, when the Fed Beige book reported that "Price pressures have intensified in a number of Districts, and most report that high or rising energy prices are a concern across sectors"…it was "game over" for the rest of the trading day.  It was back to playing chicken with the Fed by softening up the markets enough to make the Fed fear causing a recession if it continues to tighten.  With the next Fed meeting around the corner on May 3rd, the market does not have a lot of time left to make its point.  My two-week rally theory is as good as dead now!
I will end by noting how anyone could have guessed that at least tech was due for a let-down today.  Yep, you guessed it…IBM.  While the NASDAQ was busy gapping up on the cheery Intel news, IBM was busy running in the opposite direction almost right from the open.  I will again insist that there is nearly inconceivable that the NASDAQ can mount a serious rally while IBM continues to sell-off.  IBM was reporting great results before the big surprise last week.  So, every portfolio manager, investor, etc… has a bug in each of their heads warning them that if IBM can backhand everyone with an iron rod, anyone can.  Who is next?  How much longer before other important technology companies begin to fall?  You cannot take such questions lightly.  It is exactly when folks want to diminish the importance of the malaise of big companies that you need to hold onto your wallet the tightest.  Here is how ugly IBM has gotten now (click here for my standard disclaimer):
<![if !vml]>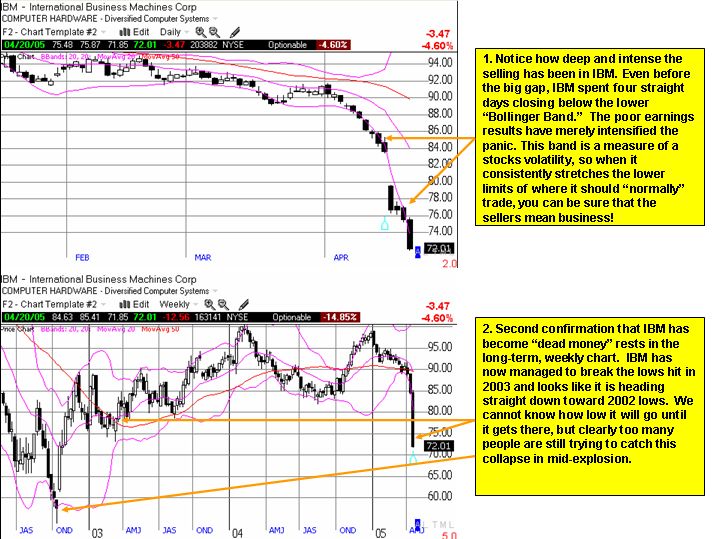 <![endif]>
As always, be careful out there!
Independent Thoughts:
======================================================================
If you are in a hurry to have cash, you go for
instant loans
which may be issued within an hour to cater to your financial needs. You must pledge some assets as collateral on the behalf of borrowers for taking
secured loans
. The American government has introduced such policies for the issuance of a special grant in the form of
student loans
and
fast equity loans
in order to provide financial assistance to needy students. Get detailed information regarding
credit union loans
provided in the
bank loan market
, giving the complete analysis of all figures and statistics.