Standard & Poor's bet on housing keeps looking worse and worse. While the stock of Google (GOOG) is finally looking toppy, the housing sector continues to sink. Last week, President Bush's tax reform panel dropped the much anticipated bomb on American homeowners: the much-loved tax deduction for mortgage interest may be significantly reduced - and soon. This deduction has become one of the top five or so reasons to justify buying a house. Guess what happens to housing prices when the government removes tax supports for this kind of investment? Next we find out that the median home has become even less affordable for the median homebuyer. As interest rates continue to rise, you can bet that fewer people will choose to buy over rent, and fewer people will be willing to pay the sky high prices imposed in many of the country's overheated markets.

But the biggest bomb yet must be today's preliminary earnings report (warning?) from luxury homebuilder Toll Brothers. For what I think is the first time during this housing bubble, a homebuilder has declared a definitive slowdown across all the markets it serves. Sure we had a relatively minor scare a year ago when Pulte Homes lowered prices as the overheated Las Vegas market suddenly cooled under regulatory and economic pressures. The stock quickly recovered all its losses and the bubble continued nearly unabated. This time, we have a report of notable and significant weakness that comes after weeks and months of hints of weakness. Here are the critical quotes to note:

"Faced with an increasingly complex regulatory process, our new communities are taking longer to come to market."
"Because we have fewer selling communities than previously anticipated, and because we delivered some homes in FY 2005 that we had projected would be delivered in FY 2006, we now estimate delivering between 9,500 and 10,200 homes in FY 2006 versus our 8,769 deliveries in FY 2005. This compares to our previous guidance of 10,200 to 10,600 home deliveries in FY 2006."
"Since Hurricane Katrina in early September, we have observed buyers taking longer to make their purchasing decision. We attribute this change to the significant decline in consumer confidence in the last two months that was precipitated by the hurricanes and their aftermath, and to record gas prices."
"It appears we may be entering a period of more moderate home price increases, more typical of the past decade than the past two years."

Two things immediately strike me in these statements. First, I put the last quote in bold to emphasize that this is probably the first time a homebuilder has even clearly admitted that the strong and robust market of the past two years is not typical, not to mention not sustainable. Instead, homebuilders have typically tried to cajole analysts into extrapolating extraordniary results well into the future. Second, Toll Brothers resorted to a typical gambit of retailers who try to cloak weak results. Toll blamed part of the problem on Hurricane Katrina, low consumer confidence, and high gas prices. These events and attributes will slow down almost any consumer-dependent business, but alone, they cannot explain what is likely a fundamental slowdown in housing market.

The stock market was particularly "unkind" to Toll Brother's stock (TOL). The stock was pounded for a 14% loss on the day - probably the largest one-day loss in TOL in many years. These prices still do not mark a 52-week low, and we should expect further weakness as the truth about the slowing (bursting?) bubble continues to gurgle forth from other pockets in the market. I will remind the faitful reader that the Fed has clearly positioned itself against the "frothy" housing market, and it will certainly press its advantage as its dirty work finally begins bearing tangible fruit.

Even as we note the ugliness of today's drop on TOL and across other housing-related stocks, let us not forget that for months now the market has been scrambling to price in the growing weakness in this sector. Its job is clearly not finished - even if some analysts, pundits, and housing apologists come out tomorrow in defense of the sector.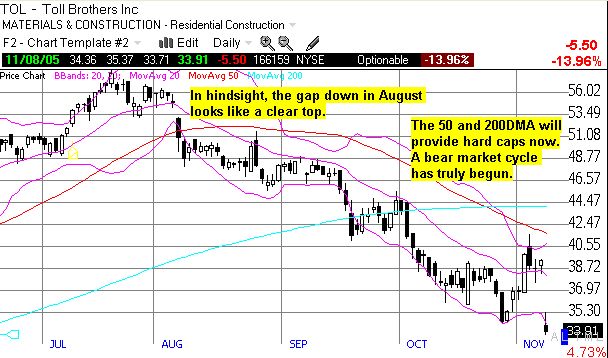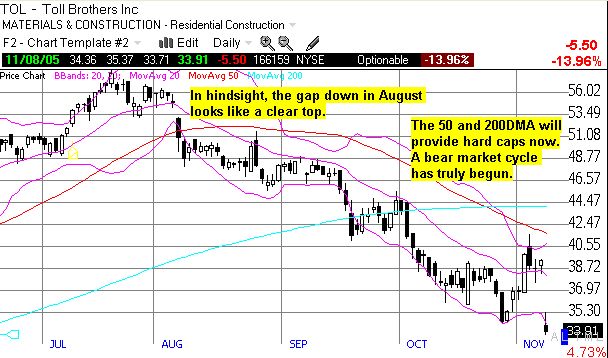 (You can get some other great technical views on various homebuilder stocks from Gary Smith of RealMoney.com).

Clearly, TOL's current problems pale in comparison to the impressive gains logged over the past 5 to 6 years. We should expect that the long-term thinkers may finally wake up to take and protect their profits. This slow but steady selling began in August, and it should now accelerate. The strong rally in housing that we saw last week looks like one of those typical "dead-cat bounces" we see during a bear market: sharp, short, and painful in the end.

Now, before we claim complete surprise with TOL's warning, various homebuilders have dropped hints that something might be amiss. Homebuilders NVR, William Lyons Homes, Dominion, and Comstock all reported weak results in September (according to the USA Today). Hovanian Enterprises (HOV) added fuel to the downward spiral with disappointing guidance in September. Insiders have been selling stock hand over fist for the past year or so. Even TOL reported slowing earnings growth in August of this year, and the CEO talked candidly about a cooling in the market during an interview with Ron Insana even as he tried to sound optimistic about overall business prospects.

What this all means is that you should tread very carefully in this sector. Do not let the low P/Es fool you - they are low for a reason! The market does not expect much out of these companies anytime soon, and they will continue to disappoint particularly as long as long-term interest rates keep rising and real wages fail to keep up with the costs of buying a house.

As always, be careful out there!

©

DrDuru, 2005