I like reviewing past writings from time-to-time, especially when I nail something! =smiles= Back on December 7, 2005, I chided two analysts for essentially suggesting that investors dump their shares of PLAY and PLCM so that others could buy them more cheaply. After that day, PLAY gapped upwards and never looked back. PLCM did take a dive, and I happily bought my own stash of shares at lower prices. I am now embarrassed to admit that I did not hang on through earnings - an earnings report that sent PLCM soaring 15% on the day. I was satisfied with taking the profits as the stock quickly returned to the middle of its year-long trading range. I wonder who got the last laugh?

Anyway, let us take another look at these situations. (Since I am talking individual stocks, you can read my disclaimer here). These are situations where your convictions mattered five times more than the chatter from Wall Street. I am making it a point to emphasize convictions because in a market that churns a lot and only moves forward in sharp spurts, you cannot afford to get whiplashed by the capricious crowds and the fair-weather fans on Wall Street.

The situation at PLAY is almost comical if only it did not cost some innocent folks some money. Lets first list out Wedbush's subsequent actions:


Jan 3: Reiterate hold rating but raise price target from $24 to $30. The stock was then 10% over the first hold rating, so we can only assume the price target went up in a reluctant acquiesence to the market's bullishness on the stock.
Jan 6: Another price target boost, this time to $32, but no change in rating. Given the stock was around $29, you would think playing for a 10% gain would warrant a buy rating, right?
Jan 9: Wedbush comes out with an "intelligence" report on what they learned on their field trip to the Consumer Electronics Show. By then, they were practically gushing over PLAY. I guess going to public trade shows can be more informative than snooping around making channel checks.

Now, as is typical when optimism begins to reach a feverish pitch, and everyone has placed their bets, the stock stalled out. Even worse, when the first negative rumors and chatter hit the street, the stock quickly careened back toward Wedbush's first target. This time, they managed to gnash the teeth, bite the tongue, and stay the hand...They allowed PLAY to report their earnings in "peace," and the stock delivered a roaring performance taking it right back to the trading levels preceding the recent correction. But things get bizarre again. Wedbush stubbornly stuck to the hold rating, upped the price target again to $34 (about a 10% premium over the close of the day), AND gave a $45 price target for the second half of the year. Huh?!? If tell you there is fair chance for a stock to go up 30% or more in the next 6 months, shouldn't I tell you to buy it? Maybe I just need to clue into this special rating system. At least Wedbush is not recommending selling the stock and waiting for the magic window to open toward the appreciation to $45.

To be fair, there has been a fair amount of analyst chatter around PLAY in the past two months or so. And the stock has mainly gone straight up no matter what analysts had to say, negative or positive. I cannot speak to the merits of buying or selling this stock. What I can say is that if you do not develop your own opinion and conviction under these circumstances of chatter and churn, you are likely to give up your shares on the cheap. See the recent graph of PLAY below: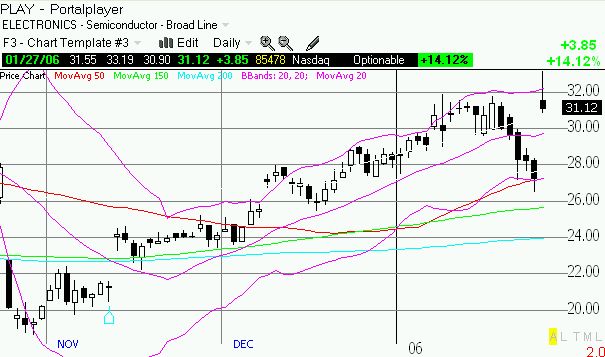 Ironically enough, Wedbush and their channel checks came to my rescue on PLCM. On Dec 28th, they reassured investors that all was well and reiterated a $20 price target. But I did not pay attention to my own advice to stick to the convictions. I took advantage of a nice 10% pop to begin 2006 to take my profits and run before earnings would bear out the positive vibes. I never even bought the second half of the stock that I had planned to get once I got a better feel for the price action. (In my attempt at a defense, I will note that I was on vacation the day my golden opportunity for even cheaper shares came). On the night of Jan 25th, PLCM delivered and the market almost took the stock right to $20 the next day. I think the pop was so dramatic because Polycom's closest competitor, Tandberg, had recently issued bad news; I am sure this subdued opinion on PLCM's shares. Analyst chatter on PLCM was also quite active and covered a nice range. Needless to say, I am now on the look-out for another sale on PLCM. Any sellers out there? =smiles= See PLCM's dramatic chart below: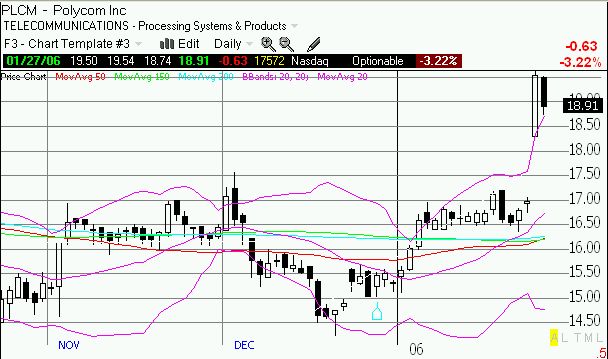 As always, be careful out there!



©

DrDuru, 2006