A curious thing happened on the way to the bottom for housing stocks...on Friday, many housing stocks rallied into the close. This mini, intra-day rally happened on a day in which both major stock indices closed poorly and all sorts of technical damage was done. I was going to ignore these mini rallies until I read a very intriguing article in the thestreet.com tonight. In this article, Robert Marcin asks whether Pulte is worth a trade to the long side. He makes a very strong case by comparing the trading situation in homebuilding stocks to steel stocks last year. As you faithful readers know, I managed to call the bottom in steel stocks last year, so I am very mindful of the possibility that the negativity in housing stocks may have reached a peak for now. I strongly recommend that you read this article, especially if you are a bear on the housing market (like I am!)

Instead of regurgitating the case that Marcin makes, I will point you to the charts that I saw that made me raise an eyebrow or two. Please note that I am not guaranteeing that the housing bubble will survive to blow up another day. I am mainly making a trading case here (read my disclaimer here when it comes to talking shop on stocks). The economy may indeed still be in trouble and may even tank soon, but it is very possible that traders will soon start to look ahead to better days for housing...even as the bottom in the housing economy has not quite arrived.

First, I consider Meritage one of the worst of the bunch based on the earnings news I have read. But on Friday, out of nowhere, this bad boy surged in one high volume swoosh near mid-day. Since I saw no news explaining the day's move, the big bells began ringing in my head. I immediately scanned over the universe of housing stocks that I check on from time-to-time. Let's take several views at Meritage because the drama is thickest here..and if the "bottom" holds with Meritage, then we can make a good bet it will hold for the various homebuilders whose business is doing much better (or not as bad!).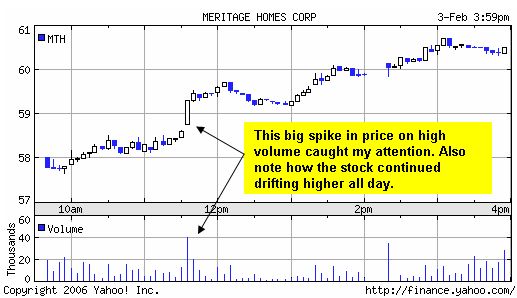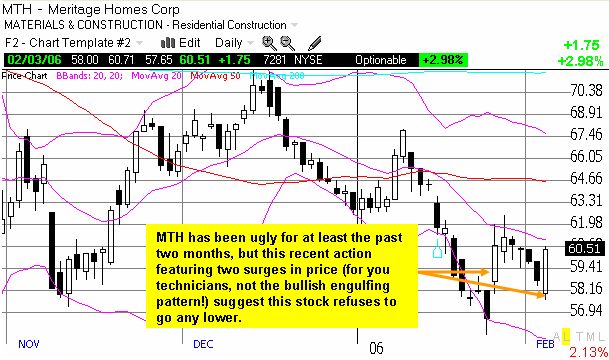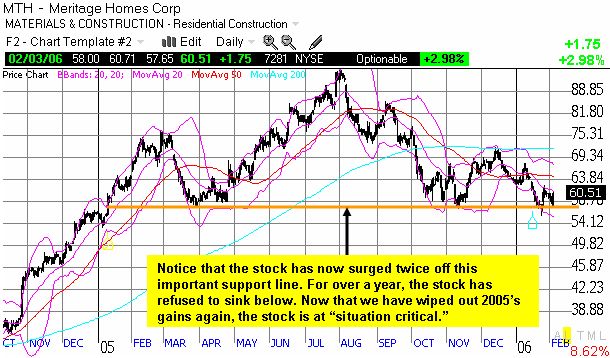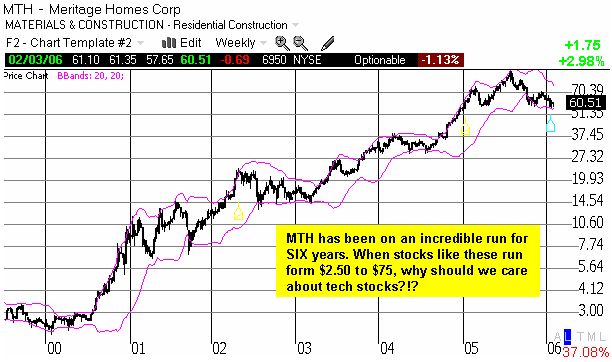 Now, seeing the drama in one housing stock is sure suggestive and exciting, but by itself a case it does not make! So, I now post the intra-day charts of the other hsouing stocks that look most convincing to me. Of course not every single stock traded in the exact same pattern, but I am convinced that "something" happened on Friday, and we would all be wise to heed the potential bullish signal in these moves. Do not forget we already saw this same scenario play out with steel last year...

KB Homes (KBH) had a good high-volume spike near mid-day, and it also left behind some high-volume selling.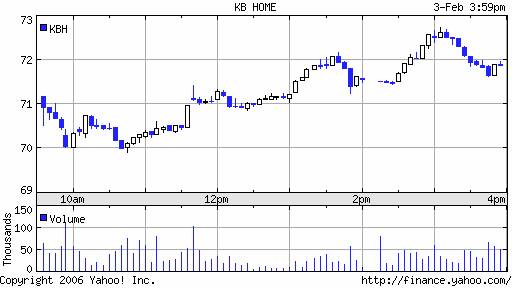 Centex (CTX) had a nice steady upswing in price leading into mid-day, and the high volume that began trading did not take the stock down any further.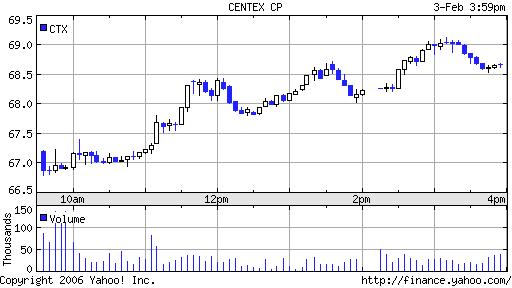 Hovanian (HOV) is similar to Centex although it did fall down a bit to start the day.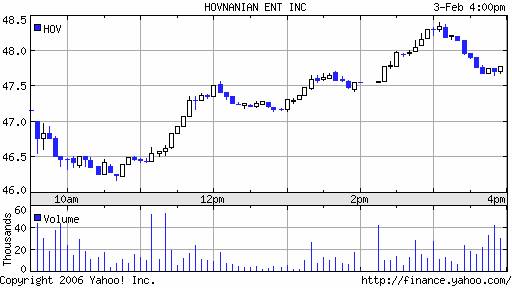 Be careful out there!



©

DrDuru, 2006