Over and over the bears on the American economy have predicted the imminent "collapse" of the American economy as the consumer runs out of liquidity. The most recent perma-bear logic insists that the American consumer has drained every last ounce of equity from his/her home and now carries so much debt that the only solution remaining is to stop spending. Well, once again, the American consumer proves defiant as Best Buy surprised the financial markets again by raising its forecast for earnings. Just five months ago, Best Buy was raising alarm bells about slow demand and decreased quarterly and yearly earnings forecasts. In fact, my favorite perma-bear, Bill Fleckenstein, seized on the story faster than you can swipe your credit card again, and announced that "the consumer is spent." We have seen this story so many times before, and we should know that the performance of one quarter should not alone be used to declare anything definitive about a company's business. I can forgive Fleckenstein: his material has kept me on my toes, anchored my enthusiasm, and sobered my excitement. But once again, his bearish doomsday predictions will have to wait another day (or month or year) to come out to play.

So what did Best Buy say that was so startling? As always, I encourage you to read the details for yourself, but I will try to summarize with my own commentary here. I will first say that perhaps I should have seen this one coming. Last month, I was passively listening to CNBC and overheard one of the TV anchors commenting that WalMart and some other retailers were seeing surprisingly good sales as consumers were spending gift cards received during Christmas. It seems that gift card sales were particularly high this year. I am guessing that the accounting treatment of gift cards does not allow stores to recognize the revenue until the card is spent on some product or service...at least not until some amount of time has passed. If so, then we can expect that a Christmas season full of gift cards will produce lackluster sales numbers during Christmas and surprisgnly good ones in Janaury and February. If the trend continues, the angst and anticipation over the traditional shopping season between Thanksgiving and Christmas could extend for many more weeks. As it turned out, Best Buy did indeed see good volume in gift card spending: "An increase of approximately 20 percent in gift cards issued during the holiday season [also] contributed to the strong revenue performance in January."

Best Buy saw strength in several product categories: "flat-panel TVs, portable audio products (including MP3 players), notebook computers and video gaming." We have all heard about the boom in flat-panel TVs as the stocks of Corning (GLW), Au Optronics (AUO), and Trident Microsystems (TRID) have been telling us for some time. I should not even need to prove to you the popularity of MP3 players. Notebook computers are increasingly the computing device of choice given the increased availability of wireless internet in airports, coffee shops, college campuses, shopping malls, and even city streets. I was a bit surprised about video gaming. From my casual tracking of the financial news in this space, it appeared to me that video games were a bit soft. I admit that I do not have detailed enough information to stake a claim either way, but I do recognize that there has been some mixed news. Electronic Arts (ERTS) recently reported weak results with little effect on the stock and Game Stop (GME) has soared this year on presumably good financial results.

Now the biggest tell of all is the expansion plan for this year. Best Buy is so confident that the consumer is far from done that they plan to open a "record number of news stores in fiscal 2007." A total of 90 stores will open up across the U.S. and Canada, 75 to 80 in the U.S., starting February 26, 2006. Most of these stores will be of the large variety. The small catch is that the majority of these stores will open where Best Buy has already established a presence. So, for those interested in the finer details, you will want to keep an eye on potential cannibalization from the old stores to the new ones reduces overall efficiency of capital allocation.

Finally, what would an exam be without a visit to the charts!? Here, we find a very interesting story! Note well that since the middle of 2005, Best Buy has bounced in a wide range of about $40-50, going nowhere fast. Well, Thursday's gap up has taken the stock right to the top edge of this range and in position to establish a new range. Thus, BBY finds itself at a critical juncture. If the stock falls back into the wide range, we will know that the market does not have confidence in Best Buy's future plans. If the stock continue moving up from here (into all-time high territory!), then we will know the market has decided that it is best to buy into the notion that the consumer simply is not dead yet. Bears have been served notice!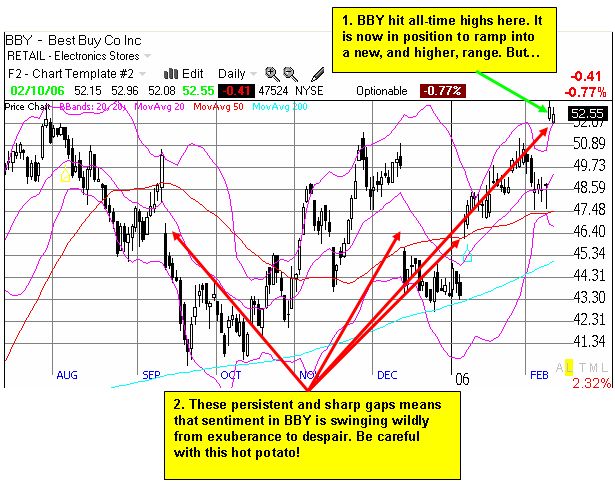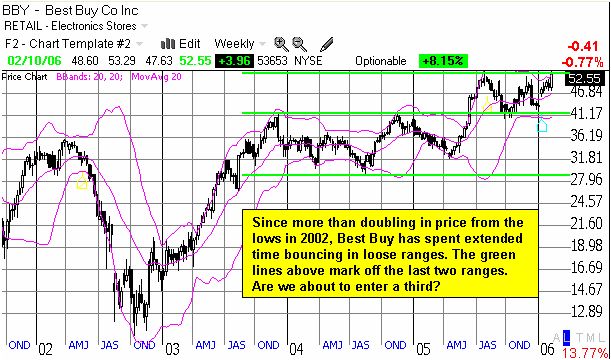 Be careful out there! (Also see my disclaimer on discussions of individual stocks).



©

DrDuru, 2006