On Wednesday, little Rhode Island slammed down a big hammer on three paint manufacturers. Jurors in a court trial ruled that Sherwin Williams, NL Industries, and Millennium Holdings created a public nuisance with lead paint. This nuisance continues to poison children. Rhode Island is hoping to get these companies to help with clean-up costs. I know the most about Sherwin Williams, so I will focus my story on them.

Once the ruling hit the streets, the stock of Sherwin Williams promptly dropped like a bio-tech stock that missed some endpoint on a drug trial. At one point the stock was down 20%, and it ended the day with an 18% drop that wiped out all of the heady gains from 2006. Suddenly, a stock with a low P/E at all-time highs became a VERY cheap stock sent right back into a year-long trading range. However, what most caught my interest was the company's attempted defense of its stock. This company was founded in 1866 and something tells me they will be around for a while longer. First, on Wednesday, the company boosted its dividend by 25%. I am not quite sure, but it appears this announcement came before the trial news. Regardless, I am sure the company hoped this would reassure the markets that all would be well. No one cared and sold first and asked no questions. Even the company's curt defense of itself had no takers.

By Thursday, analysts were finally chiming in. Caution was the word of the day: it seems that this court case could open up Sherwin Williams to additional court losses. We do not even know just how big the liability will be in Rhode Island. The continued negative news flow drove the stock straight down for a second straight day. But at 10am, briefing.com reported that the CEO/Chairman/President Christopher M. Connor stepped right in front of the "falling knife" and bought 2000 shares at $42. The stock was at $38 at this point, but the selling stopped on a dime. In fact, the stock closed right at Connor's buying price. (Imagine that!) See the action below.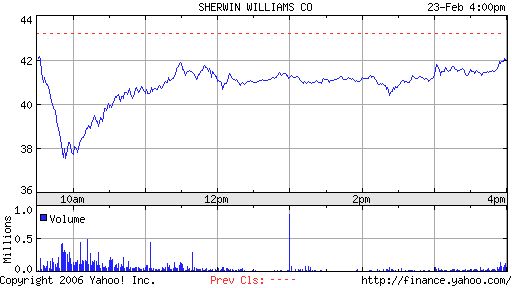 Since I never followed the court trial, I cannot speak to the merits of this case. I cannot take a position positive or negative. However, when a CEO buys a big chunk of his stock under such conditions, I have to take notice. And when the market immediately responds in kind, I really sit up. In other words, if the CEO is putting money where his mouth is, you might be not want to bet against his company. Indeed, I am inclined to bet with him. (See disclaimer). The recent haircut has also sent the stock to a forward P/E of 10, and it now trades for well under 1x sales. Now, the one caution you should note is that Connor already owns 305,815 shares, so the 2000 he bought on Thursday represents a drop in the bucket relative to the riches he already has stashed in company stock. If you were worth almost $16 million one minute and then worth $13.2 million the next minute, I think you too could find $84,000 to try to defend your castle, right? Regardless, this story will be very interesting to watch. We will also want to find out what kinds of provisions the company may have already made to pay any liabilities relevant to these lead paint cases.

Be careful out there!



©

DrDuru, 2006