Well whaddya know?!? The S&P FINALLY gave some props to Google by promising to add the stock to the S&P 500 index on Friday. And just in time too. The stock was languishing around the 200 DMA and was looking ready for another leg down. After so many false starts and signals, the S&P could not have picked a better time because as another round of S&P additions rolled along, there was NO chatter speculating about this time being Google's turn. You can have no better example of maximum negativity than that. GOOG was a stock looking for a serious catalyst. After the S&P first chose moribund housing stocks and then the "wrong" internet-related stock, the S&P finally joined what has become a grand ol'New Economy party. Google's stock responded in kind and soared immediately fpr a 7% gain.

But the drama does not end there. Looming above was a rapidly declining 50DMA. Buyers stopped just short of that key resistance level on the 3rd day of the S&P-induced rally. But instead of turning right back around like we might expect, GOOG wasted no time gapping up again and hurdling that Maginot line. And on a day in which the NASDAQ hit 5-year highs (amazing how the NASDAQ just keeps chugging along, eh!?), GOOG did the index one better with almost a 5% gain. But wait. the high on the day was $399. Could it be that $400 would act yet again as a magic number? I have said it several times before, and I will say it again, we will continue to see how important this $400 mark will be for GOOG. In fact, my target on the stock REMAINS $400. Well, apparently, GOOG is quite aware of the special properties of $400 because they chose this grand day to announce the opening of the stock flood gates to the tune of an offering of 4 million more shares for a whopping value of $2.1 BILLION dollars. The stock dropped like a stone (ok - maybe like a hot potato) in after-hours, nearly erasing the good cheer from today. And thus, the special properties of $400 have been preserved in a flash. It will be interesting to see how all of today's trapped buyers behave on Thursday. They should try to hold on because the indexers just might give them one last chance to bail as they scramble to buy GOOG shares on Friday. And after that buying pressure dissipates? Well, let's just say that the history of stocks post index is not good. Look at Amazon. It is down about 25% from its post-index highs. Then again, the stock never should have run so far and fast after the S*P announcement anyway.

Now $2 billion would be a lot of money for any company, but Google has already tapped the public markets a few times for billions more. So, one must wonder what in the world Google is going to do with even MORE cash?! Are they trying to take over the world? Or maybe they will be forming a financing arm to help bail GM out of its woes? OK, maybe it is something in between. But whatever it is, this company is now awash with cash. I am sure that Google has provided itself with a war chest that will maintain it as the Internet's most dominant force for some time to come. Now, if management could just act right....

I have posted a chart to serve as a summary of the drama described above. Be careful out there!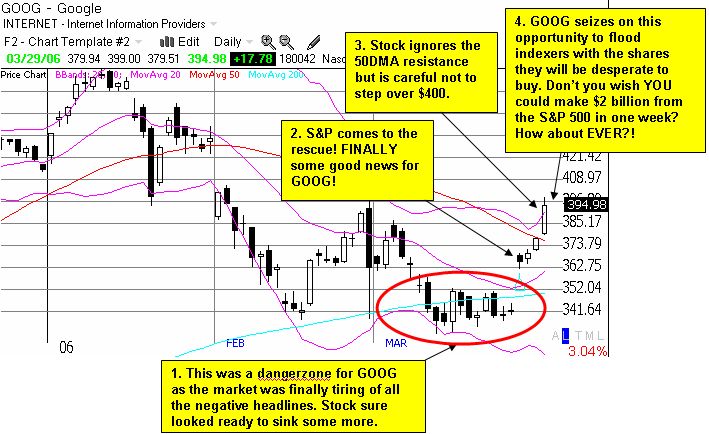 ©
DrDuru, 2006