Subscribe in a reader or subscribe by Email



Overspending or "undersaving"? Take your pick. The American consumer continues to defy calls of his demise by finding new ways to extend and leverage every dollar. The Bureau of Economic Analysis (BEA) recently released its data on Personal Income and Outlays for November, 2007. Comparing November to October, "personal income increased $43.1 billion, or 0.4 percent, and disposable personal income (DPI) increased $32.9 billion, or 0.3 percent. Personal consumption expenditures (PCE) increased $110.6 billion, or 1.1 percent." Woah! We consumers found a way to spend triple our monthly increase in disposable income?!? For those of you that know me, you KNOW that this kind of disparity gets my attention with a quickness...and gets me looking at more of the data.

First, I went back to a missive I wrote in February suggesting that the decline in savings rate has driven our multi-decade bull market. What triggered that piece was a report that the savings rate had gone negative for the second year in a row. Strangely enough, the BEA data now shows that 2005 and 2006 savings rate hovered just above zero (compare to the January, 2007 news release that clearly shows the negative savings in 2005 and 2006). Perhaps there have been some changes in definitions, revisions to the numbers, and/or some seasonal effect I missed. Whatever happened, the profile of savings decline remains the same as shown below (from Table 2.1. Personal Income and Its Disposition, Bureau of Economic Analysis):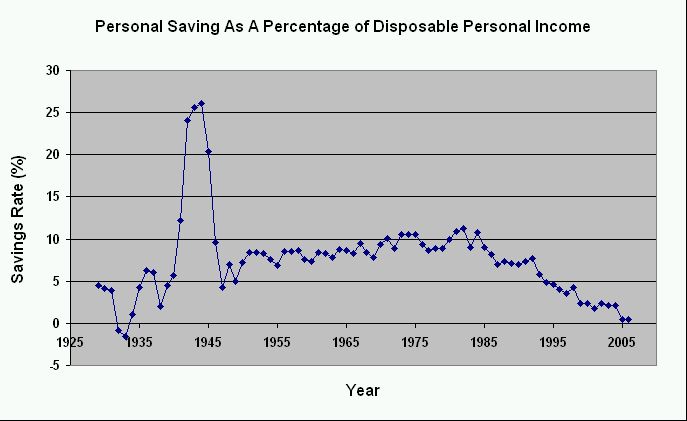 The point remains the same, the economic recovery that began in earnest in 2003 has been propped up by an abrupt decline in the savings rate from already low levels. And how are things looking this year? Through three quarters, the savings rate is at 0.6%. Thanks to the huge $48.4 billion drop in savings in Novmeber, we are now at 0.3%. Anyone want to bet on whether the Christmas spending season sends personal savings into the red this year?

This review of America's anemic savings habits is also timely given an article today from the Associated Press: "Unpaid credit cards bedevil Americans." Here are the most relevant data:
"The value of credit card accounts at least 30 days late jumped 26 percent to $17.3 billion in October from a year earlier at 17 large credit card trusts examined by the AP. That represented more than 4 percent of the total outstanding principal balances owed to the trusts on credit cards that were issued by banks such as Bank of America and Capital One and for retailers like Home Depot and Wal-Mart.
At the same time, defaults — when lenders essentially give up hope of ever being repaid and write off the debt — rose 18 percent to almost $961 million in October, according to filings made by the trusts with the Securities and Exchange Commission.
Serious delinquencies also are up sharply: Some of the nation's biggest lenders — including Advanta, GE Money Bank and HSBC — reported increases of 50 percent or more in the value of accounts that were at least 90 days delinquent when compared with the same period a year ago.
The AP analyzed data representing about 325 million individual accounts held in trusts that were created by credit card issuers in order to sell the debt to investors — similar to how many banks packaged and sold subprime mortgage loans. Together, they represent about 45 percent of the $920 billion the Federal Reserve counts as credit card debt owed by Americans."

I think overall the numbers are still small, but as the AP notes: "Until recently, credit card default rates had been running close to record lows, providing one of the few profit growth areas for the nation's banks..." So it seems that the bottom in defaults has arrived. Combine a savings rate in continued decline and default rates on the upswing, and I think you can smell the trouble brewing. Needless to say, as the Fed continues to cut interest rates, the incentive to save will continue to decline. I post the old chart from my February missive below to show the close correlation between interest rates, the savings rate, and the S&P 500.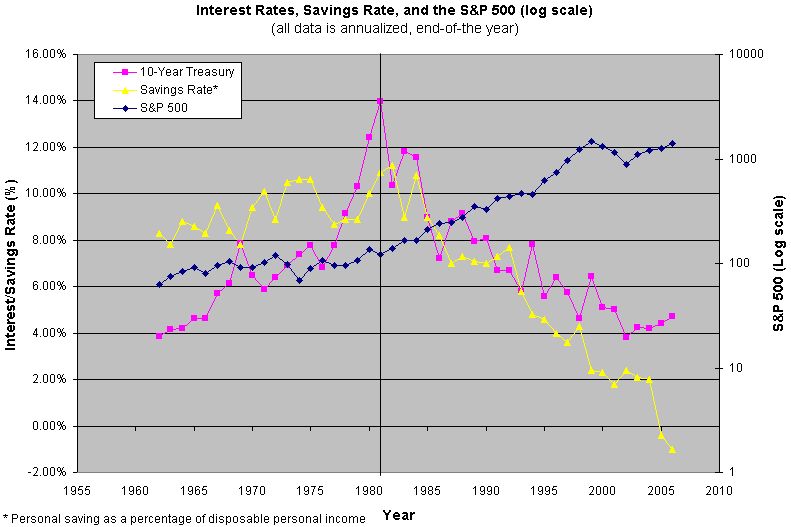 Clearly, the Fed has learned that it must keep supplying America's debt addiction to drive "growth" and resuscitate the economy when that growth stumbles. And the long-standing question remains...how long can America continue on this one-way track downward emptying our bank accounts? Note well that we have not saved so little since the Great Depression.

Be careful out there!



©

DR. DURU®, 2007