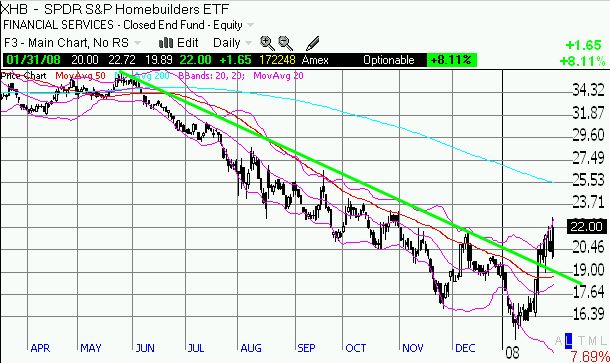 The key for me will be to watch how individual homebuilder names respond on the next pullback. The good news for these stocks is that they should now be able to ride the coattails of any rallies this year.
Overall,
the tide has started to turn for the market
since the lows of the month. Year-to-date performance aside, it seems the bears are slowly losing their grip on the market. If the market responds well to the jobs report number Friday morning, the bears may be put into hibernation for a while - even if it is only to wait out weeks of choppy trading. Regardless, we now seem to be in a place where it will take "new" bad news to knock the market back down below the 2008 lows. Since the Fed has made it clear it is extremely anxious about the availability of credit and the current slowdown in growth, I have to think that some new bad news will be forthcoming. Mind you, that's just a guess. Don't forget, I am running a bias with
a 1200 target for a low on the S&P 500 for this year
. I came up 70 points (5.5%) short in January...
Finally, Google reported "disappointing" earinings on Thursday night. I was so intrigued, I had to listen to the
webcast
tonight. I did not find anything to get too excited about, not even the analyst questions, so I can't blame the sellers. In
my last missive
I implied that the chances are increasing for a huge Google miss and a large price drop. Well, Google traded down as much as 7% in the after hours. If that holds for tomorrow's close (and I don't think it will unless the market sells off too), it would rank as Google's 3rd worst one-day close ever (tied with two other days in February, 2006). I think that qualifies as a "big move" in relative terms, but I am still looking for the day when GOOG drops 10 or 15% or more. For those who want to get short Google now, first take a look at how impressively Amazon (AMZN) bounced from its earnings woes Thursday morning. Of course, AMZN actually guided up, and the market seemed to be quibbling over margins. Cooler heads prevailed and won the day on that one. In GOOG's case, there is no guidance. There is mainly an abiding faith in Google's increasing dominance over the internet. Friday should be, uh, interesting.
Be careful out there!
©
DR. DURU®, 2008