Subscribe in a reader, subscribe by Email, and/or !
click here to suggest a topic using Skribit



Caterpillar (CAT) had an impressive day, closing up almost 4% after the market got giddy over bullish commentary during CAT's analyst meeting on Tuesday. The media seems to have gotten excited because CAT's commentary suggests that the U.S. is heading out of recession and/or the economy is just fine. Sometimes, it pays to actually read and track what has really been said.

Back on Oct 21st, I expressed skepticism as CAT management stated in its 3Q07 earnings results: "We expect 2008 to be the sixth consecutive year of sales and revenues growth, despite a U.S. economy near to, or even in, recession." (Click here to download if file no longer available from CAT website). During the conference call, Jim Owens, CAT Chairman and CEO said more specifically: "...in 2007 in the U.S., which has been our highest-margin market, we have experienced pretty severe recessionary conditions in housing and on-highway truck segment..." All this recession talk touched off a firestorm of speculation that the entire U.S. economy was in or headed into recession, and I cast doubts on the whole talk. I went so far as to guess that "...CAT is trying to manage expectations down for 2008 to set-up some nice out-performance relative to expectations next year." Sure enough, CAT avoided the term "recession" in its last earnings conference call. Yesterday's analyst meeting served up a detailed, long-range picture of growth and prosperity (click here if the supporting materials are no longer available on the site).

CAT has done well managing expectations as the stock is now up for 2008, and it is sitting right in the downside gap formed during that terrorizing October earnings report. The charts at the bottom show how CAT punctured through the doubleresistance of the 200DMA and the approximate downtrend line. We also now have the higher lows and higher highs that mark the good likelihood that CAT has punched out some kind of bottom here.

CAT's 2008 economic forecast (slide #18) shows growth slowing this year in every global region with North America sporting the rear as the big laggard at 1.1% growth in GDP. Even if you wanted to claim recession, it is nearly immaterial when your forecast is for positive overall growth for the year (granted after adjusting for inflation, you could argue these numbers are recessionary). Curiously, the caption in this slide reads "U.S. slowing, better conditions elsewhere." Both are true, but the statement is incomplete since all regions are slowing. Anyway, one has to wonder why the media is getting excited about the U.S. economy based upon this sober outlook. CAT has not given us hope for an economic recovery this year in the U.S.

However, most impressive is CAT's attempts at forecasting the global economy all the way out to 2017. On slide #26, CAT shows every region of the globe growing robustly from 2008-2017. For each region, the projected growth rate is better than the previous 20 year period. Talk about bullish! On top of this, they imply that inflation and interest rates should remain low for the foreseeable future. Talk about insight! So, the next time CAT uses the term "recession," you know to give them a resounding "chiru!"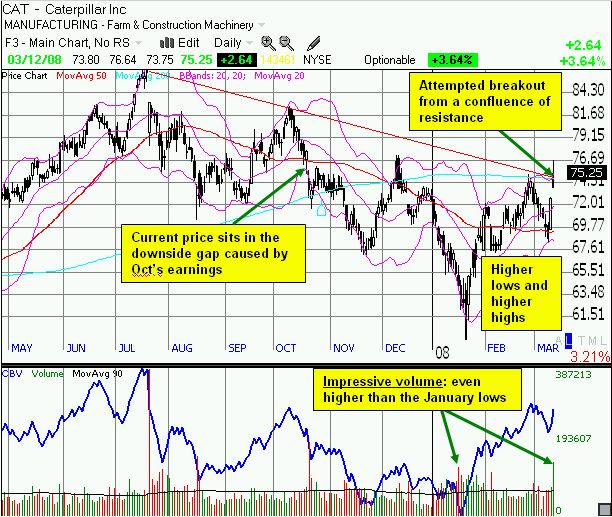 Be careful out there...and chiru!



©

DR. DURU®, 2008