Radio Shack reported its latest earnings results on Friday. The news was bad. Radio Shack reported a 62% decline in net income and 56% decline in diluted earnings per share while revenue only increased 5%. The president and CEO David Edmondson claimed: "...we experienced lower sales in high-margin categories. In addition, wireless sales and profits were below our expectations." With a stock that is only worth 25% of its bubble days all-time peak, a stock that has bounced between about 19 and 35 for almost five years, a stock that is now at three-year lows (see chart below), Radio Shack has now announced a turn-around plan. The company will refocus its efforts on a smaller operational base by closing 400 to 700 stores. Juxtapose this with the 75 to 80 new stores that Best Buy will open in the U.S., many in areas already served by a Best Buy store. Compare this to the upside surprise that Best Buy reported over a week ago. Note that Best Buy's stock has continues to set all-time highs (see below). I would hazard to guess that Best Buy is taking Radio Shack out back to the woodshed and giving them a good once-over!

As always, I encourage you to read the results for yourself. I also wrote up the latest in the Best Buy story over a week ago. In that missive, I noted that the consumer is obviously not through just yet given their spending at Best Buy. Now, we know that part of Best Buy's success is likely coming from stealing share from its hapless rival. (And the Edmondson's apparent "academic" issues sure will not help the situation!)

So, let's take a look at what the price charts tell us at this critical juncture.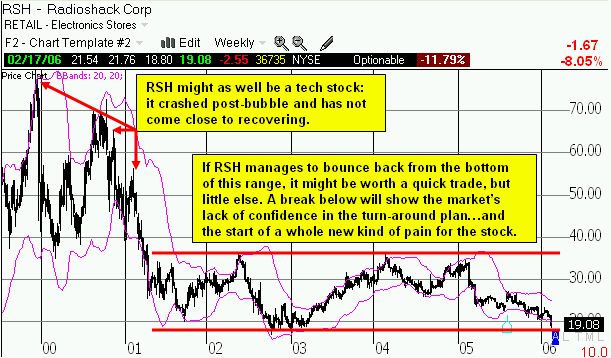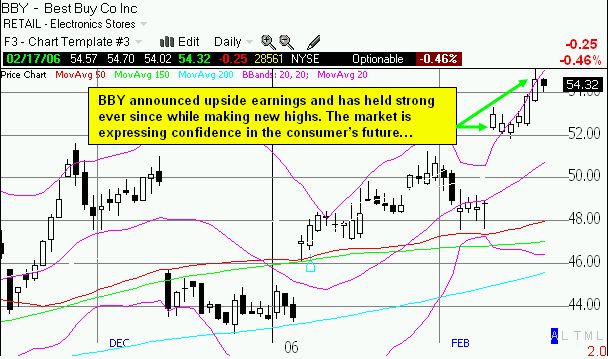 Be careful out there! (Also see my disclaimer on discussions of individual stocks).



©

DrDuru, 2006