Quite a bit of time has passed since I took a hard look at Intel. A quick search through the One-Twenty site shows that I have left the Intel story alone since December, 2004. I made note of the post-earnings collapse in the stock in January, but not much else. What got Intel back in mind is that I noticed Intel took a hard tumble in response to Dell's subdued financial outlook for 2006 as reported Thursday night. The subsequent breakdown in Intel's stock looks ominous and more pain could be ahead.

I first hopped all over Intel in July, 2004 when the stock dropped 10% after dishing out earnings news that the market did not like. Two months later, Intel provided a mid-quarter update that scared the market yet again - this time to the tune of a 7% drop and new 52-week lows. I noted at the time that Intel was exerting less and less of an impact on the NASDAQ. But by the time 2004 was coming to a close, I was cheering a potential rebound in Intel. For all of 2005, I remainded silent, even as Intel staged a small (but wild) rebound for 2005. The price of the stock just barely gasped for air above the gap that opened up in July, 2004, and the highs of that year were never challenged. Now, in the first two months of 2006, Intel has been beaten down twice to 52-week lows.

Interestingly enough, the NASDAQ declined by 1% the day that Intel dropped over 11%. Two days later, the panic and despair was complete with an incredible 50 point drop - a 2.4% one-day loss for the NASDAQ. As this index has churned, it has jumped back to pre-Intel levels only to get sold right back down to the lows of that one-day panic. In three quick, hot, and heavy days last week, the NASDAQ looked ready to repeat the recovery of late January. The drop in Dell and Intel on Friday proved too much to overcome. In other words, the NASDAQ appears to be more effected by the fortunes of Intel than when I lasted reported on the lack of correlation.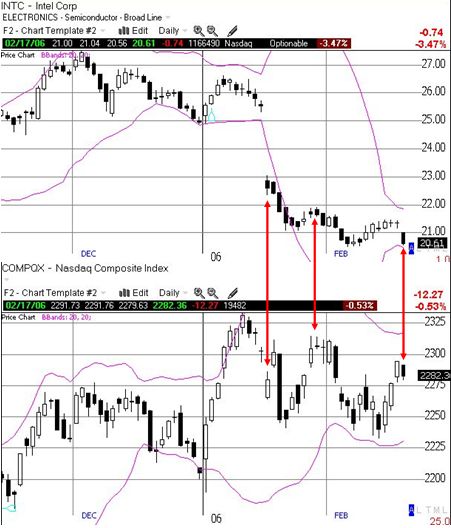 Of course, the NASDAQ is nowhere close to 52-week lows - that would require a 17% drop from current levels - but it sure appears that the NASDAQ is going to have trouble moving much higher without better performance from Intel. Note that even the recovery in the NASDAQ peaked where Intel's meager recovery peaked. I am suggesting that this relationship is something to watch even as the semiconductor index (the "SOX") is reaching for two-year highs - Intel aside. (You should also keep an eye on the financial performance of Intel and the entire related semiconductor complex).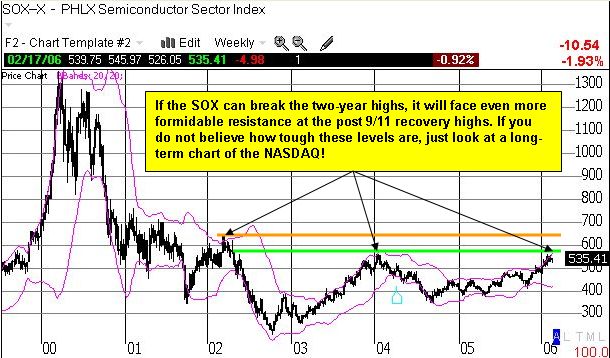 (Click here for some details on how tough the post 9/11 recovery highs have been for the major indices.)

Be careful out there!



©

DrDuru, 2006