One more big headline celebrated strong profit and revenue growth and a bullish outlook. This time it was Home Depot's turn. On Tuesday morning, Home Depot reported exceptional financial results, including news that the average "ticket" grew to a record $57.98, representing a 5.7% increase over the same quarter last year. The company pointed to strong merchandising, new and innovative produces, and increased efficiency as reasons for the excellent performance. Once again, we get news that the American consumer is not finished spending yet. So, with all the good news, why did the sellers come out in droves? Why did they push the stock right back to the closing levels of the previous day?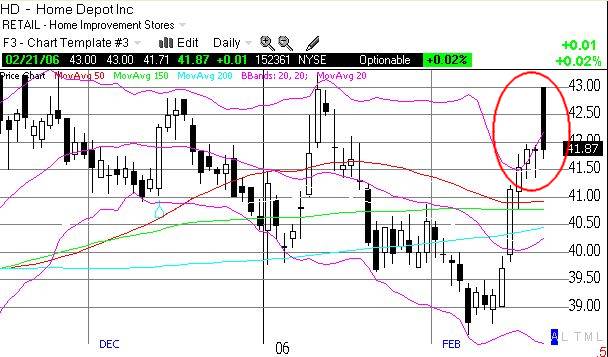 Perhaps the trouble is that Home Depot has been struggling for over a year at these price levels?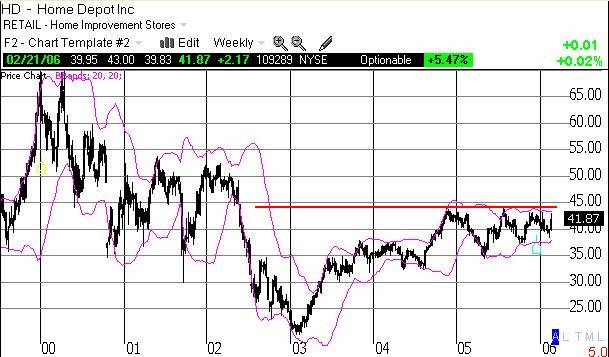 Perhaps. It is certainly nothing like the exuberance (or relief!) that we saw when Best Buy soared on good news. Instead, what I think is happening is that the buyers are beginning to lose some enthusiasm. For almost two weeks now, I have been taking note of stocks that started well after the announcement of strong earnings results, only to see sellers march the stock right back down, sometimes past the closing price the day before the good news. This review is of course anecdotal (also see my disclaimer), but I think at a minimum it is suggestive. Marvel Technologies reports earnings this week. If it too gets good news faded, I will be more convinced than ever than the market, at least for technology stocks, is losing serious steam in the near-term. In the meantime, let's take a look at the recent charts of Applied Materials, Nvidia, Hewlett Packard, Network Appliance, and Cymer (note the dominance of tech stocks, and semicondutors in particular!).

Applied materials (AMAT) wasted no time selling off right past the previous day's prices. It has now had three strong selling days right to support at the 50 day moving average (DMA). The stock has already bounced 3 times off this support since November, can it do it again?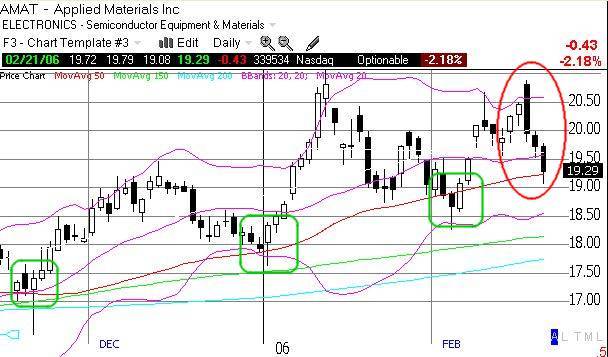 Nvidia (NVDA) was just plain ugly. It obviously got way ahead of itself when it zoomed up and through previous 52-week highs. The subsequent fade has all the markings of a blow-off top. Be careful with that one!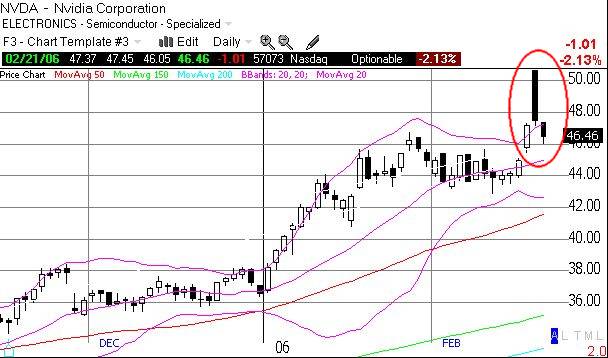 I will let the chart of Hewlett Packard (HPQ) speak for itself. It's stock is also selling off 52-week highs. In fact, we have not seen these prices since early 2001!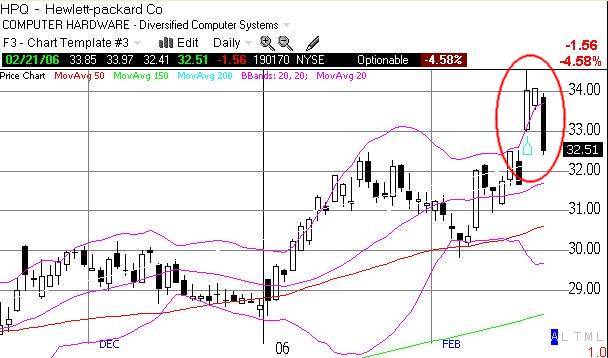 Network Appliance was blocked by a bunch of analyst commentary that essentially said "good, but..." I saw several price targets placed right around these current price levels. NTAP may need more good news to beat the rap.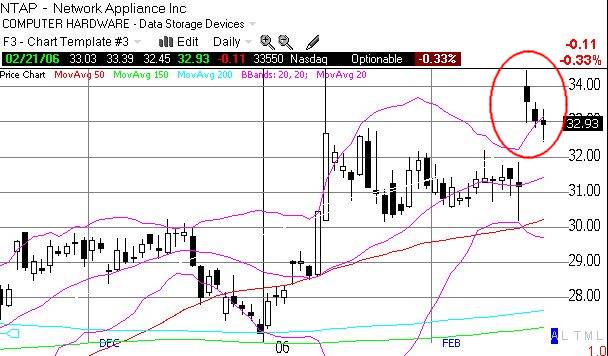 Cymer has had a slow and steady fade. It took almost three weeks, but the stock has now finally closed the post-earnings gap. I will say that the one-day run CYMI had must have been caused from frightened shorts because I sure did not see much to get excited over on that earnings report.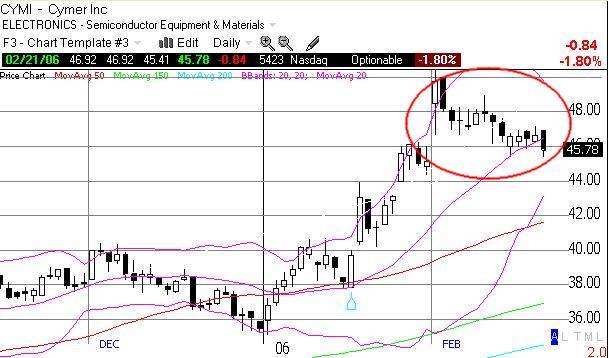 Again, I will remind you that these vignettes represent a small sampling of the post-earnings universe. I am also not presenting a balanced view since I do not examine the stocks that are still managing to do well post-earnings (back in January, stocks that faded after earnings seemed to bounce right back...take AMD for example). But I will say that each and every one of these stocks came with grand headlines, good tidings, and even caught some attribution for good things happening in the market. As always, be careful out there!

{Feb 23 addendum: also check out the nasty fades in ESLR, GRMN, BIDU, and BOOM. These stocks do not loom large in the scheme of things, but I still find it interesting to note how easy it is to find these post-earnings fades these days...}



©

DrDuru, 2006