Subscribe in a reader, subscribe by Email, and/or !
Click here to suggest a topic using Skribit. Search past articles here.



For some time now, I have claimed that the risk/reward is poor for shorting homebuilders at this point - unless you happen to know which homebuilders are very likely to go bankrupt (as surely one will before the housing recession ends). Clearly, there are plenty of market players who disagree. For at least the past year, shorts have held a tight grip on the necks of homebuilder stocks. The chart below shows that the number of shorts across a wide spectrum of homebuilders have held steady or even increased (source www.nasdaq.com).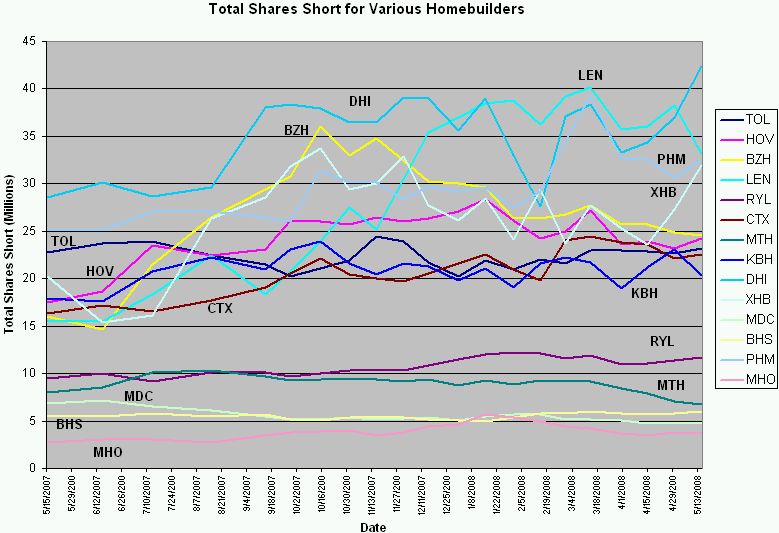 It is particularly curious to see the shorts backing off of Beazer Homes (BZH). BZH remains locked in a year-long mortgage fraud investigation. Perhaps the BZH shorts are getting weary of waiting. In 2008, shorts have notably increased their bets against Lennar (LEN), Pulte Homes (PHM), Centex (CTX), and Ryland (RYL). If new trouble brews for the homebuilders, perhaps we should look there first.

Note that I did not look at short ratios or the percentage of the float that is short. For some of the homebuilders, these numbers are quite high. Yet, these statistics have not deterred the shorts one bit. Of all the homebuilder stocks, Centex (CTX) looks to be in the most technical danger at this point. CTX has now returned near its 52-week and 6-year lows - a level that has held three previous times, this year and last, and also marks the low from 2002. I am not posting CTX's chart here, but reposting the chart of the homebuilder ETF as a reminder of the recent breakdown it experienced.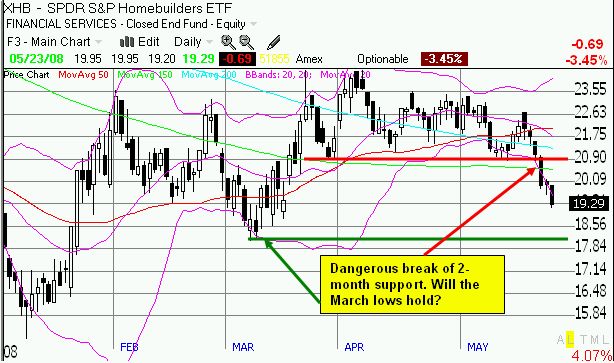 Be careful out there...!



©

DR. DURU®, 2008