Subscribe in a reader, subscribe by Email, and/or !
Share Click here to suggest a topic using Skribit. Search past articles here.



After the Senate finished grilling the Wall Street bailout triumvirate of Bernanke, Paulson, and Cox, it got to work passing HR 6049, the Renewable Energy and Job Creation Act of 2008, aka the Investment Tax Credit (ITC). This bill has churned endlessly in Congress this year, but the Senate's approval has made final passage by the House and the President almost certain. Bloomberg quotes a study claiming that the $17B in energy tax credits extended to 2016 will "...create 441,000 permanent jobs and inject $232 billion in new spending into the economy."

Given the renewed selling in solar stocks to start this week, it seems investors and traders were losing hope that this bill could pass given the enormous financial obligations the American people are likely to take on to save Wall Street from itself. In particular, Energy Conversion Devices (ENER) was slammed for a 19% loss on Tuesday after its major customer, Solar Integrated Technologies, "cut its 2008 revenue outlook, saying its U.S. market was being 'adversely impacted' by the pending expiry of the Investment Tax Credit and tightening credit markets." These are two risk factors that I and others have mentioned in earlier pieces describing the risks inherent in investing in solar stocks, but this is the first time I have noticed a solar-related company directly mention the credit markets as a source of trouble for its own financial performance. Now that the U.S. will most likely extend tax credits to solar companies, it seems that Solar Integrated Technologies' warning may be a bit premature, and the resulting sell-off in ENER a bit overdone. Moreover, an analyst quoted in the Bloomberg piece claims that it is "..unknown as to what percentage of Solar Integrated's reduction in outlook would involve Energy Conversion's products." Given the dour mood in the markets, it should not surprise us that folks are selling first and asking questions later.

The Senate's approval came after the stock market closed. In very thin trading, many solar stocks recovered a portion of this week's losses on the news. For example, ENER jumped 6% on volume of 97,000 shares (data from NASDAQ.com after hours trade reporting). I will likely wait to see how Wednesday plays out before dipping back into ENER (I took advantage of last Friday's sharp rally to dump my earlier hedged short-term position at a small loss). Risks remain extremely high in the market, so I would love to see more selling pressure dissipate. At a forward P/E of 18, PEG ratio of 1, and a price/sales ratio in the double digits, ENER looks relatively expensive in a risk-averse investing environment. The chart below shows that ENER suffered heavy technical damage from Tuesday's selling. If ENER can stay above Tuesday's lows this week, it should have a good chance of resuming its upward climb. Otherwise, a break below September's low is likely, and the 200DMA will be the next stop around $47.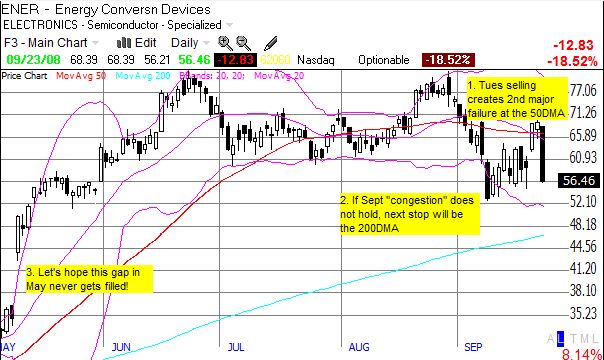 Be careful out there!

Full disclosure: Long TAN. For other disclaimers click here.



©

DR. DURU®, 2008

Share