Subscribe in a reader, subscribe by Email, and/or !
Share Click here to suggest a topic using Skribit. Search past articles here.



Monday's rally needs no more than a big WOW. I do not even dare try to call a bottom given all the technical indicators I use to watch for a bottom completely broke down during the market's cascading crash. Instead, I am keeping a closer eye on trends. In one day, many stocks broke the steep downtrends in place since the selling intensified at the beginning of this month. But as TraderMike notes, there is plenty of overhead resistance combined with longer-term downtrends that will no doubt attract new waves of selling.

The VIX is also still in an up-trend that began after Labor Day. Monday's big 21% drop has not quite broken that trend. If this trend is not clearly broken soon with some additional drops, we will be back to wondering just how many more new highs will it continue to make. (Note that when I last mentioned the VIX, I incorrectly noted that it was higher during the 1987 crash. I believe my charting tool mixes the new VIX and the old VXO. The CBOE explains the difference.) An additional move downward in the next day or two will encourage me to put on hold my strategy of riding the trend by buying and selling puts to accompany longs (I will not sell my remaining puts). After that, I will next monitor whether the VIX forms any kind of base from which it could resume its rise. A break back below 30 or so will indicate to me that this latest phase of increased volatility is most likely over.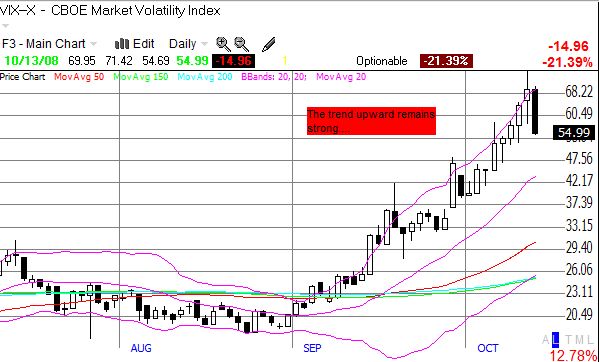 Finally, I am struck by the amount of skepticism that I continue to encounter about the possibility of a lasting bottom at this juncture...

Peter Eliades of Stockmarket Cycles says we are in for long-lasting difficulties. He also provides a scenario for a rally that lasts until Spring before we head back down to make new lows:




Jim Cramer from TheStreet.com bluntly states "don't trust this rally."

And the Fast Money gang on CNBC is generally wary. As usual, Jeff Macke was the most skeptical of the bunch (click here for the opening segment of Monday's show). Oppenheimer chief market technician Carter Worth stood out with an analysis that declares that the bottom is indeed in as buyers are panicking back into the market.

Don't sell in a panic, consider buying when others are forced to sell, and be careful out there!

(Click here for a video from Ino.com on trading oil, gold, and the dollar to deal with fear in the market) Full disclosure: No related positions. For other disclaimers click here.



©

DR. DURU®, 2008

Share