, subscribe by Email, or

Click here to suggest a topic using Skribit. Search past articles here.



NVE Corporation (NVEC) is not only still around, this week it popped above its 200DMA on high trading volume. This is quite an achievement given that only 8% of stocks on the NYSE currently trade above this important long-term moving average (data from T2107, a Worden indicator). This impressive move is follow-through from an apparently impressive earnings report last week, January 21, 2008.

Why the interest in this nanotechnology company sporting a small-cap of $144M? A little over 4 years ago I wrote a scathing piece on this company, coat-tailing on an even more scathing article from Motley Fool and the indictments of famous short Asensio. Well, the company kept plodding along, and I eventually forgot all about it...until a reader emailed me last year in May asking my thoughts about the company. I was taken aback since I had no new thoughts. Since then, I have randomly checked in on NVEC; I even looked for some evidence to prove that I was correct that NVEC is a shell of a company. Nothing. Today, I finally hunkered down and read through NVEC's latest earnings report and was pleasantly surprised. My commentary here is not meant to be an endorsement of buying or selling the stock: I am just reporting on what I see on the surface of publicly available information. I am also closing the loop on likely being wrong about this on-going story.

First, revenue was one of the bigger question marks for NVEC. Back in 2004, they were mainly an R&D shop generating $12M in revenue, mostly from contracts. Today, the majority of revenues come from product sales: 78% last quarter and a whopping 85% over the last 9 months. I think that decisively dispels the concern that they only generate revenues from R&D.

The transcript from NVEC's last earnings call (posted here in Seeking Alpha) highlights several achievements by NVEC:


13th consecutive quarter of year-over-year earnings increases (the last 7 quarters have ranged from 21% to 79%!)
A 150% increase in contract R&D (the executives acknowledged the lumpiness and unpredictability of this revenue stream. This number also far out-paced the 10% growth in product sales)
16th consecutive increase in year-over-year product sales
Their Micro-Small Outline Package, or MSOP, couplers were approved by the International Electrotechnical Commission for standard 120 volt applications
Their new IsoLoop IL-500 Series couplers were named the Hot 100 Product of 2008 by EDN
The two patents granted last quarter brings their patent total to 50 in the U.S. NVEC is also "protected by more than 100 patents worldwide, either issued, pending, or licensed from others." (One of the earlier criticisms was that NVEC owned indefensible patents).
Interestingly, NVEC also authorized a buyback given its strong financial performance. I think this is a strange thing for a small company to do in such a precarious economic environment. However, NVEC has no debt on the balance sheet and $2.4M in cash. NVEC's price-to-sales ratio of 6.3 and price-to-book ratio of 3.7 are at or near historic lows. The stock is not exactly cheap but it is relatively inexpensive. Only one analyst is providing coverage with a future earnings growth rate dropping from 27% in the current fiscal year to 10% next year. In the earnings conference call, NVEC acknowledged that the current economic crisis inserts a lot of uncertainty into the business, especially on the R&D contract side, and the company provided no guidance. NVEC also provided no criteria or timeline for purchasing shares. (Note well that 2008 was full of buybacks, announced and real, that only served to drain the company treasury!)

Finally, insiders have not sold stock since last May, and the few institutions that own the stock have been net buyers. Since NVEC is a small-cap company, the universe of potential buying institutions is also small, but at least it seems there are a stable set of buyers and holders of this stock.

Overall, NVEC has my interest again - but this time in a positive way. I will be tracking it more closely from now on. In the short-term, the stock is quite stretched and very over-bought. But it has made a higher high since bouncing off the November lows. The long-term chart (showing NVEC's entire history), shows that the stock has held its ground since its meteoric rise in 2003, but it also has made lower highs in each of the last 3 years followed by slightly lower lows. Going forward, I want to see continued positive earnings and revenue reports, and I want to see the November lows hold and/or 2008's high overtaken. For an immediate buy target, I will look for a pullback of at least 10% or so. A successful retest of the 50DMA would be even better. When (or if) I pull the trigger, I will do so with full awareness that in the current investing and trading environment strong stocks can be brought to their knees with a quickness - a clear stop will be a must. The short and long-term charts are posted below.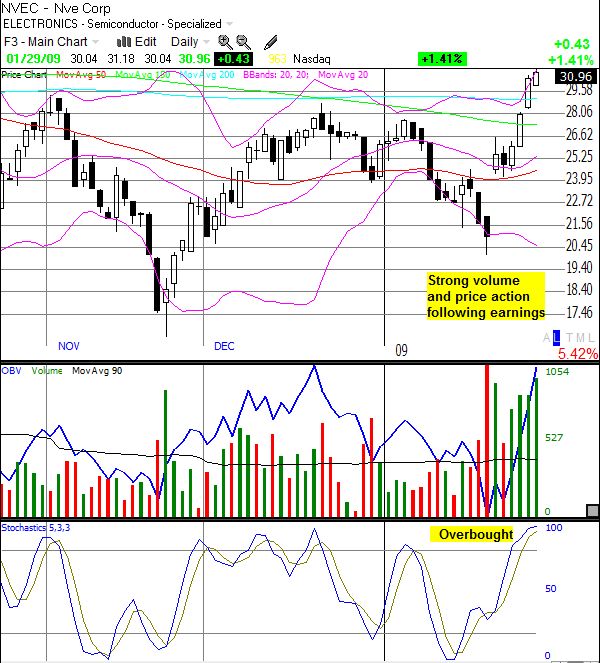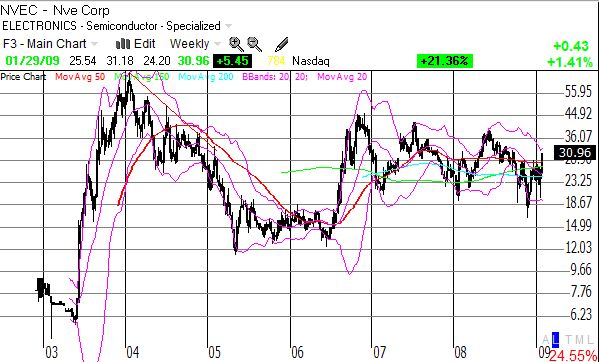 *All charts created using TeleChart:



Be careful out there!

Full disclosure: No position in NVEC. For other disclaimers click here.



©

DR. DURU®, 2009