, subscribe by Email, or

Click here to suggest a topic using Skribit. Search past articles here.



TIP, the iShares Barclays TIPS Bond Fund, made a fresh 6-month high on Thursday. TIPS (Treasury Inflation Protected Securities) provide protection against inflation by indexing the value of the underlying bonds to the consumer price index (CPI). This 6-month high is an important milestone. Not only have very few stocks or other securities achieved 6-month highs, but also reaching this milestone represents a complete rollback of the first deflation panic that began last Septemeber.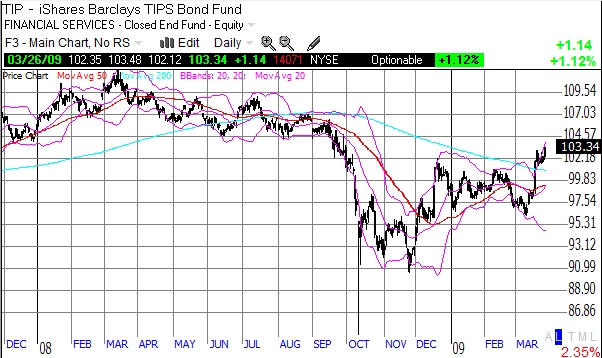 *Chart created using TeleChart:



If this abatement in fear sticks, it could signal yet higher prices for all manner of (stock-related) assets. I am not proclaiming an end to the risk of deflation. I expect more panics down the road. But it seems to me that this (bear market) bounce has demonstrated that the market has the ability to accept some reflation medicine. Even oil is back over $50 now and gasoline prices are slowly but surely creeping upward. As America prints want it takes to reflate, I will continue to treat intervening deflationary episodes as opportunities to purchase long-term inflation protection on the cheap.

Copper in the form of Freeport McMoran (FCX) has been the most surprising of my anti-inflation (or is that pro-reflation?) trades and investments. I thought it would remain in a trading range as the dreary economic outlook dominated the trade. Instead, analysts and financial media have jumped all over FCX giving it over a 33% boost since it broke out of its trading range earlier this month. I sold the trading portion of my holdings last week but still hold my core position. It has been extremely tempting to sell even the core holding given FCX's soaring popularity, but for now I am sticking with the original strategy.

Be careful out there!

Full disclosure: long TIP, FCX, and USO. For other disclaimers click here.



©

DR. DURU®, 2009