, subscribe by Email, or
Search past articles here.



In November, 2008 and March 2009, most casual dining stocks were (briefly) priced for an extremely steep and ruinous recession. Today, most casual dining stocks have enjoyed tremendous gains from those lows, many doubling and tripling. However, most of the gains in these stocks occurred in swift fashion and accumulated in the span of just one to two months immediately following the lows. Such is the price action surrounding panics. Curiously, most of these stocks have now been in holding patterns ever since April.

I list here just a few examples of how casual dining stocks remain stalled (some charts posted below).

These 5-month performances have quickly shifted casual dining stocks from tremendous out-performers to stark under-performers. The S&P 500's rally was still in its nascent stage back in April. It is up 15% since the end of April when it made its high for that month and has been up as much as 19% as recently as last month. With unemployment expected to remain very high through the end of 2010 and probably into 2011, I am not surprised by the recent performance of these casual dining stocks. However, the stocks of many department, apparel, and retail stores have continued to rally along with the broader market (e.g. Nordstrom (JWN), Coach (COH), Urban Outfitters (URBN), Target (TGT), and even Jos. A Bank Clothiers Inc. (JOSB)) even as they accompanied casual dining stocks to November and March lows. So, it is difficult to extrapolate the implications of the extended churn for casual dining stocks. For bears (like myself), the recent under-performance of casual dining stocks is yet one more sign that the stock market's rally is coming to an end soon (with a steep correction). For bulls, casual dining stocks may represent bargains as they will ramp up again to catch up to or surpass the broader market once again. Whatever your perspective, I think these stocks should be closely watched for at least the remainder of the year.

(Note all charts are weekly to compare current price levels to 2008 levels)

DRI's high in April was not only the high for the year, but it also surpassed its 2008 highs. This stock might have had you asking "what recession?"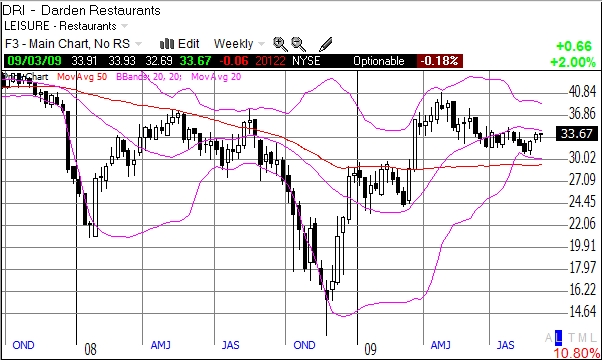 EAT is actually a stock I picked up in January of 2008 back when I optimistically assumed that the bull market was experiencing a "mild correction." I sold it soon thereafter during a small run-up. I was too bearish to try buying it back during the last swoon even though I thought the collapse to $4/share was well overdone for this popular franchise, especially given the extremely high dividend yield (now still sitting at 3%).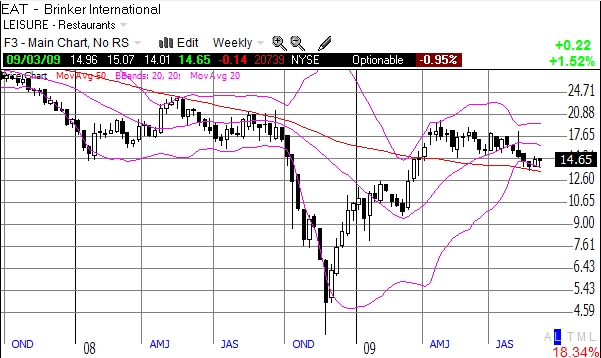 YUM did not collapse as much as other food-related stocks and its bounce has not been as dramatic either. YUM's international business is out-performing its U.S. business.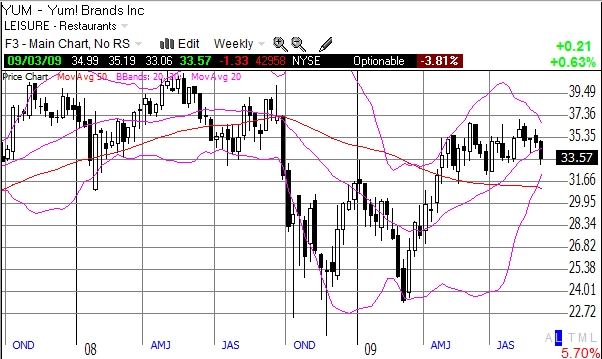 CAKE has managed to make fresh 15-month highs. Those long lines must still be an attraction at Cheesecake Factory!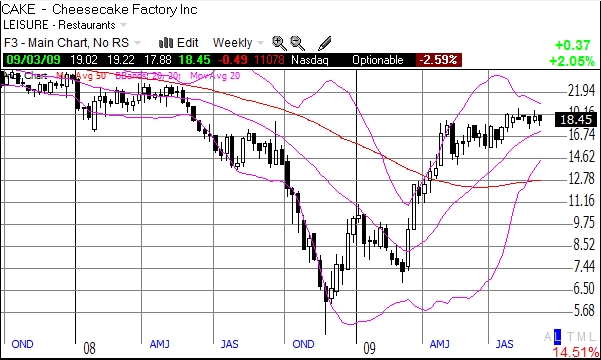 *All charts created using TeleChart:



Be careful out there!

Full disclosure: no positions. For other disclaimers click here.



©

DR. DURU®, 2009