Subscribe in a reader, subscribe by Email, and/or !
Click here to suggest a topic using Skribit. Search past articles here.



On June 2, I warned that "stubborn shorts" were regaining the upperhand over homebuilder stocks. I noted that for at least a year, shorts have not backed down. They have generally maintained or increased positions across most homebuilder stocks. Last month, XHB, the ETF for homebuilders broke down below important support, and last week, Centex (CTX) followed through on its "threat" to make new 52-week and 7-year lows. CTX is the first major homebuilder to crater to new depths this year. The long-term, weekly chart below for CTX makes the damage quite clear.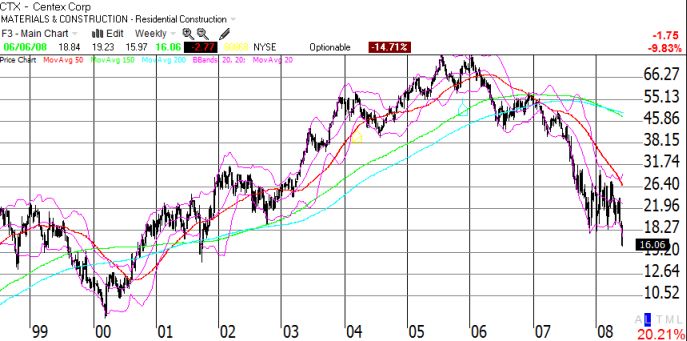 I now fully expect other homebuilder stocks to follow suit to fresh 52-week lows. The 5-month record of hanging tough and even out-performing the market for much of this year looks to come to a crashing end here. It is interesting to note that as the homebuilders seem to crumble for a new leg down, the valuations relative to book value and sales are generally at levels where value investors tend to buy. Of course, we have seen similar numbers throughout the housing recession only to find that the homebuilders had more book value to lose and more sales to lose. The chart below provides price-to-book, price-to-sales, and the short ratios and percentage of float that I did not provide in the last missive.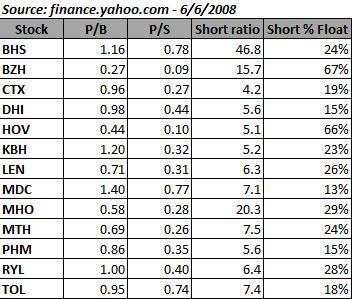 Some of the selling is no doubt related to the recent decline in the major indices. However, the S&P 500 is still about 10% above its 52-week low. Financial stocks are certainly leading the way downward. BKX, the bank index, has been making new 52-week and fresh 5-year lows every day in June. There appears to be no relief in sight for homebuilders either. The May jobs report released last Friday showed further declines in the condition of the labor market. Inflation is a growing scourge crimping the wallets of consumers. Foreclosure rates continue to increase with the foreclosure rates in the first quarter at levels last seen in 1979. 30-year fixed mortgage interest rates have barely budged all year, ARMs are little better, and banks have tightened credit availability (much to the chagrin of the Fed). And to complete the perfect storm damaging the homebuilders, the Federal Reserve is now trying to talk tough on inflation in a belated attempt to defend the dollar. Assuming that jawboning alone will not be enough (it never is), when the Fed actually takes real action to try to fight inflation, we will likely see mortgage rates go up even further. All of these dynamics combined are only serving to destroy demand for housing.

Look out below....and be careful out there...!



©

DR. DURU®, 2008