Subscribe in a reader, subscribe by Email, and/or !
Click here to suggest a topic using Skribit. Search past articles here.



One week after writing that I am short-term bearish and long-term bullish on many of the stocks in the solar sector, Evergreen Solar (ESLR) responds to my direct critique with another blockbuster announcement. On June 18th, ESLR announced that it had secured another $600M in contracts bringing its backlog up to $1.7B. This announcement was well-coordinated with an analyst day on the following day. And this time, it seems the market is ready to believe.

ESLR popped as much as 12% in the after-hours. After fading a bit from those levels, ESLR made a strong close, finishing with an impressive 20% gain. As I noted in my last missive, the May 22nd announcement of $1B in new contracts was met with a strong fade and indicated market skepticism. Thursday's strong technical behavior indicates the market has come around; perhaps the second try for Evergreen Solar will be the charm. I cannot argue with the market on this one, and I am now fully bullish on ESLR.

The chart below shows that ESLR has conquered the double-resistance at $12 that I proposed as ESLR's first proving point. However, given the over-bought stochastics, price stretched well above the upper Bollinger Band, and next overhead resistance at $13, I would prefer to buy ESLR on a pullback. Another fade would invalidate the bullish signal and raise even more alarm than the last fade did.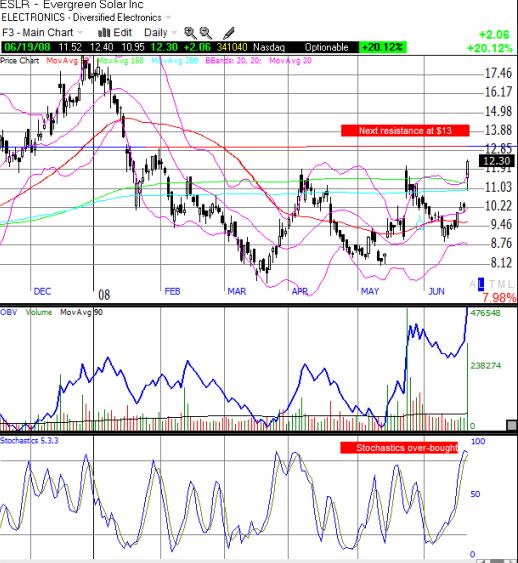 Be careful out there...!

Full disclosure: No positions in ESLR at the time of writing. (See additional disclaimers here).



©

DR. DURU®, 2008