Subscribe in a reader, subscribe by Email, and/or !
Share Click here to suggest a topic using Skribit. Search past articles here.



I will say what I said at the end of the last monster one-day rally in the stock market: this "rally needs no more than a big WOW. I do not even dare try to call a bottom given all the technical indicators I use to watch for a bottom completely broke down during the market's cascading crash. Instead, I am keeping a closer eye on trends..."

So, of course I had to make exceptions - for a few stocks, I watch valuation over trend. Of the many stocks that have caught my interest during the stock market freefall (and free-for-all), Intel (INTC) has taken front and center. I purchased a chunk of it for the IRA account last Thursday. At that time, it was the same price it held at the beginning of the last bull market, 5+ years ago (note well - THAT price also goes back to 1996 and 1997!). I will never forget how I regretted not buying any longer-term investments during those tumultuous times.

INTC now yields almost 4% - incredibly high for a tech stock. INTC has a trailing and forward P/E around 12, and it sports ratios for price-to-sales and price-to-book of 2.0. INTC is also sitting on a $12.2B mountain of cash ($2.20/share) and only $2.4B in debt. Given the cheap can always get cheaper in a market panic, I gulped hard and braced myself for further selling. I was figuring that a "worst case" scenario pegs INTC at book value and yet another 50% haircut; a likely scenario is that INTC rallies at 15-20% within a year, and I get paid an extra 4% to wait around; and the "long-term" scenario is that I nab a double within three to five years. I am saving plenty of cash just in case more bargains are around the corner. All of this assumes that INTC will remain a viable business no matter what economic calamity is yet to come. I am not calling a bottom here. Just a point that seems "good enough" to start buying INTC.

It is easy to celebrate on a day like today, but I am quickly sobered up when I observe that INTC remains within a steep downtrend. I need to see something different and that difference would be a break of this persistent downtrend. Such a break would be an early signal that a sustained bear market rally might finally get underway. Even after that, INTC has a whole lot of resistance to work through that will likely take months of churn (see chart below) - I may even get motivated to sell at one of those points of overhead resistance. Regardless, INTC is a high-quality company and stock that fits well into my on-going thesis that the place to be for the reflation and inflation that will follow the current deflation is technology and commodities. More on the ugliness of the commodity picture another day...

Be careful out there!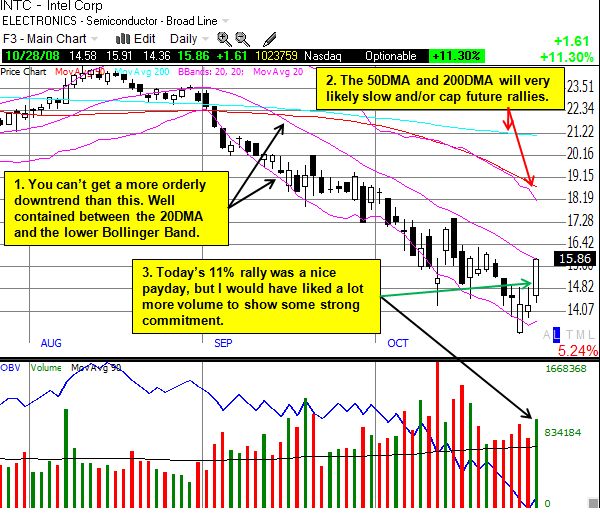 Full disclosure: Long INTC. For other disclaimers click here.



©

DR. DURU®, 2008

Share