, subscribe by Email, or

Click here to suggest a topic using Skribit. Search past articles here.



Sunpower (SPWRa) lit a fire under solar stocks today with impressive earnings results and even better earnings and revenue guidance. Even First Solar (FSLR), whose stock had become a bit of a laggard in the sector, powered higher around 7%. Now, FSLR's earnings report next week gets even more interesting. My biggest outstanding question is whether SPWRa benefitted from taking some market share or has the total pie expanded enough to allow all the major players to report surprise results?

Before the bottom fell out of the solar sector (and the stock market), it made sense to buy FSLR ahead of its earnings report. Of course, by the time I got on the case last June, the pre-earnings dynamics got a lot more complicated. For next week, the pressure should be more upward than downward for FSLR but there are some technical levels to keep an eye on as shown by the chart below (note this was captured about 45 minutes before the market closed).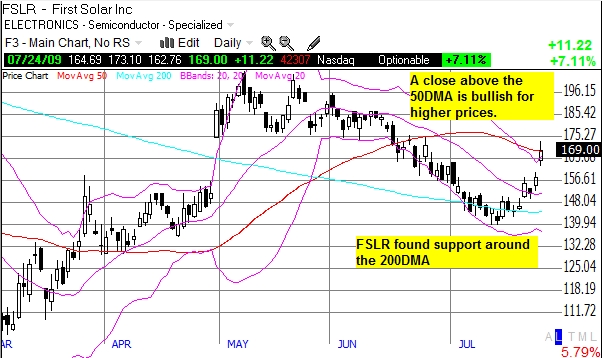 *Chart created using TeleChart:



If FSLR can close above the 50-day moving average (DMA), then it could easily be right back at 180 or 190 in the few days before earnings. For now, I am guessing it stays below the 50DMA and that the 200DMA remains as support. I am also guessing there is a high chance that FSLR's earnings will disappoint based on the company's remarks from its analyst day. The market's reaction to disappointment will depend on the price of the stock. At $180 or $190, the stock should sell off dramatically. At $140 or so, FSLR could hang in there. My last price target on FSLR was $130. As I said at the time, I was much less confident about the "next" 30 points down (from about $160 to $130) than the first 30 points down (from around $190 to $160). Sure enough, FSLR found support at the 200DMA around $140 although the price action was very "sloppy." I will revise my target as needed based on the coming earnings report.

The reaction to a surprise in SPWR's results was easier to gauge because of the enormous short position in the stock (37% of float as of June 25th), the strong bearishness of analysts on the company, and the general malaise in the stock that almost took it to fresh 52-week lows. (I am still targeting the Autumn to take a long-term position in SPWRa as opposed to the short-term positions I currently take). In FSLR's case, the surprise move is down, not up, and SPWRa's results probably just cranked the expectations for FSLR even higher.

Also catching my interest in the coming days and weeks are Energy Conversion Devices (ENER), which made fresh 52-week lows earlier this month, and Trina Solar (TSL) which actually made fresh 10-month highs earlier this week.

Full disclosure: net short FSLR. For other disclaimers click here.



©

DR. DURU®, 2009