, subscribe by Email, or
Search past articles here.



In late June, First Solar (FSLR) alerted analysts that the solar market is undergoing a major transition that will very likely squeeze the company's margins. Investors responded by continuing the selling that started earlier in the month. The stock finally found support at the 200-day moving average (DMA) (see chart below), and Sunpower's (SWPRa) surprise earnings report propelled FSLR a final 10% going into its own earnings report. All the post-analyst day losses were erased, the words of caution were long forgotten, and the thrill had returned. In preparing for First Solar's earnings report, I claimed that the news would disappoint: "...I am also guessing there is a high chance that FSLR's earnings will disappoint based on the company's remarks from its analyst day. The market's reaction to disappointment will depend on the price of the stock. At $180 or $190, the stock should sell off dramatically. At $140 or so, FSLR could hang in there."

FSLR disappointed as expected, and the stock sold off as expected, but the path downward was wild. Traders first reacted positively to the headline news that FSLR handily beat expectations for last quarter. The stock gyrated wildly before topping out at $192 right before FSLR's guidance confirmed what the company had already indicated a month earlier. We just got more specifics: FSLR is offering rebates in the extremely important solar market in Germany and is actively responding with pricing to protect factory throughput.

The after-hours session finished with the stock at $167 or so, and by the close of regular trading the following day the stock was down another 8% to $154. (I posted my FSLR earnings-related trades on Twitter in real-time. I was pleasantly surprised that my entire set-up worked out so well.). Now that the dust has settled from all the dramatic price action, FSLR is just right back to its price right before SPWRa reported earnings. However, hardened solar traders and investors should recall that last year it was pretty common for solar stocks to pop immediately following an earnings release only to get viciously faded after the initial excitement wore off. From a technical standpoint, FSLR has printed the dreaded "island top." The stock looks ready to resume the previous short-term downtrend and decisively break below the 200DMA.

Analyst reaction is all over the place on FSLR, but my own "fair value" target of $130 remains in place. I suspect there remains plenty of latent enthusiasm for FSLR's premium valuation to keep the stock from falling too fast from here. Additionally, the general market remains an important wildcard as further price increases could drag FSLR along for the ride as risk appetites continue to expand.

Regardless, polysilicon competitors have finally forced FSLR to defend its market share with pricing. Solar customers are well aware of the developing pricing dynamics and will likely do their part in maintaining downward pricing pressure. Today's pricing estimates could be completely undermined within months. FSLR has insisted that even under the most dire pricing scenario, it will retain the upper-hand. All this adds up to lower margins for everyone, and some major shake-outs, perhaps by year-end. It probably also means that FSLR will finally do a stock offering sooner than later to make sure it remains well-capitalized.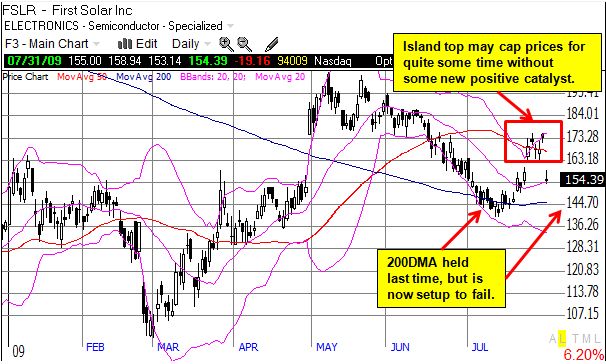 I am next looking at Trina Solar (TSL) which reports sometime later this month. It is trading at 10-month highs around the $28.75 price for its recent public offering. Despite that, it has an attractive valuation at 1.2 price-to-sales, 2.0 price-to-book, and a 12 forward P/E. The Chinese appear ready to accelerate government largesse into its solar markets, making China-based solar companies more attractive than usual.

Energy Conversion Devices (ENER) sits at the other end of the spectrum. I tried to stay bullish on ENER last year, but gave up after September prices did not hold. ENER reports on August 27 and sports an attractive valuation of 2.0 price-to-sales and 1.1 price-to-book. However, the forward P/E of 21 does not account for the increasing business and product risks that its thin films division (United Solar) faces. Indeed, ENER's stock responded to FSLR's report with an 8% drop. The chart below shows ENER's overall downtrend. The stock made fresh 52-week and 5-year lows in early July, and I expect those levels to break again.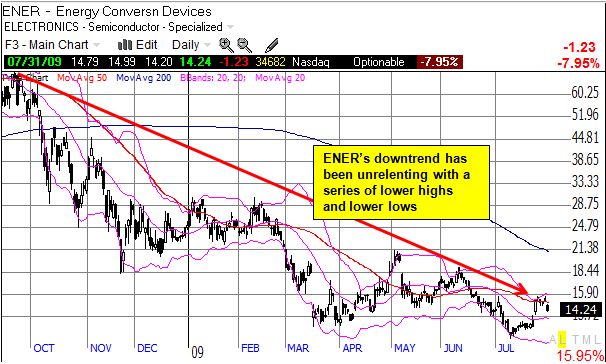 *All charts created using TeleChart:



Be careful out there!

Full disclosure: net short FSLR. For other disclaimers click here.



©

DR. DURU®, 2009